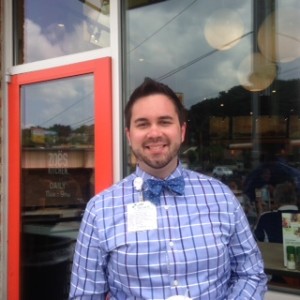 Heath Nettles is the Social Media Manager for Mission Health. He holds a Master in Business Administration from Western Carolina University. Heath has been with the Mission Health Marketing and Communications Department for several years and has demonstrated flexibility and dedication in the ever changing and disrupted environment of healthcare.
He enjoys his challenging career at Mission Health. We have had the pleasure of working together when the Pet Therapy program is promoting a fund raiser or the Marketing Department is focusing on a pet related story to engage or introduce the public to the organization.
Heath is involved in uniform messaging initiatives as Mission Health has integrated with regional hospitals and practices. He is involved in selecting vehicles for messaging while analyzing return on investment results using various metrics. To accomplish this, a variety of dash boards and monitoring processes are utilized. Health works closely with the Risk Management Department to assure industry regulations are being met and standards are upheld.
Our discussion turned to the topic of outsourcing marketing needs versus keeping services in-house. It appears that Mission Health has determined that keeping marketing and communications services in-house is more cost effective and efficient than outsourcing.
Heath shared that he and the department recently participated in an information system audit that examined items such as: disclaimers, social media, inbox procedures, on-line security and measurable results. He enjoys the challenges of the fast-paced environment and staying updated on the latest platforms and technology. Heath sees the future of social media in healthcare going towards the mobile market. I enjoyed conducting this interview with Heath Nettles and learning about the important role social media plays in healthcare.