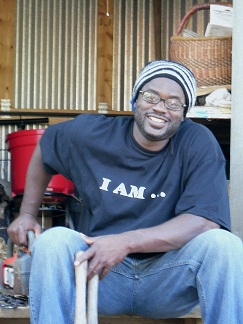 DeWayne Barton is co-founder and co-director of Green Opportunities, an Asheville-based, community-based development organization dedicated to improving lives, communities and the health of the planet through innovative green collar job training and placement programs.
DeWayne had been active in his community for years, working with area youth to develop and tend community gardens, clear sidewalks, and do landscaping projects along neighborhood streets.  One afternoon he stopped by the offices of the Green Building Council to explore opportunities for area youth in the green building field.  Though they didn't have any programs available, they knew of someone else in the community with similar interests.  DeWayne was introduced to Dan Leroy and Green Opportunities was born.
They have both worked tirelessly to make the organization a success.  DeWayne's continued focus has been on recruitment of corps members and community outreach.  He has a unique perspective in working with their target communities — those who face significant barriers to employment, often marginalized and oppressed.  Like many entrepreneurs, he reinforces that his work consumes much of his time.  In fact, he can be found taking calls from the early morning hours and late into the night.  He helps out with transportation, advocates with the court system, and lends his counsel to those who will listen as they work to build more successful lives and become a part of the burgeoning green economy.
Echoing the advice shared by nearly all of the entrepreneurs I've encountered, he insists that we must believe in the impossible.  Working for social and environmental justice is in many ways working towards the "impossible."  He reminds us to believe in and rely on forces greater than ourselves…to keep moving towards the goal and KNOW that it will be realized.
He has struggled with learning and completing the paperwork involved in running a non-profit.  His strengths lie in his creativity and ability to network and build supportive relationships with and for the people he serves.  He relies on his team to compliment each other and fill in the gaps that each may have.
As he continues his work, he is planning to develop an arm of the organization that is focused on youth–Hood Huggers, International.  He believes that empowering our youth by engendering in them a sense of purpose and responsibility is a critical step in building a brighter future for them, our communities, and our planet.  Let's hope he's right!